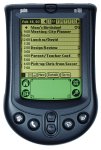 Palm m100 Handheld.
The Palm III has been found to be of value by the Severewx.com Team, so the Palm m100 should be of great value too. Not only can you take all of your important phone numbers with you in the device, but you can also entertain yourself with some simple games and even connect it to a GPS unit. The Palm m100 can be connected to the Delorme Earthmate GPS and displays GPS coordinates and even some maps. This device doesn't compare to a laptop computer, but is a good alternative if you can't afford a laptop.
List of complete specifications

List Price: $179.95
Out Price: Click here for latest low price
Order Now!
This product owned by members of the Severewx.com Team.
© 2002 Weather Edge
Content and pictures may not be reused without written consent.