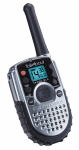 Motorola TalkAbout 280 SLK-AA Black 2-Way Radio.
When chasing with more than one vehicle, communication between vehicles is necessary. Older walkie talkie's did not have a good range. These new personal radios have a communication range of up to two miles. The sound quality is also very clear. Outside of an amateur radio, these are the best options available. See accessories below.
List of complete specifications

List Price: $99.95
Out Price: Click here for latest low price
Order Now!