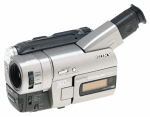 Sony CCD-TRV37 8mm Handycam Video Camera Recorder.
This camcorder is one step above the JVC. This Sony 8mm camera has many of the same features of the JVC above, but it also has a stronger zoom, infrared night video capability, and other features. This is a good universal camcorder. The 8mm makes sharing video a little more difficult. Also, while this camera records better at night, the infrared feature only works best for objects within 20 feet.
List of complete specifications

List Price: $499
Out Price: Click here for latest low price
Order Now!